Altoona, PA: The Lung Disease Foundation of Central Pennsylvania, in partnership with Ronald McDonald House Charities (RMHC), launched a Vaping Sensor Pilot Program within the Hollidaysburg Area School District. This program includes installing 20 vape sensors in bathrooms within the districts junior high and high school buildings. The sensors were funded in part by a $10,000 grant from RMHC to the Lung Disease Foundation, and the Foundation funded the remaining $5,000. 
After identifying a vaping issue within the school district, Sherri Stayer, Executive Director of the Lung Disease Foundation, began researching grants as a way to help after the district contacted the organization for assistance in curbing its vaping problem. According to a report released by the school district, there were 56 disciplinary incidents involving vaping at the junior high and high schools in the 2018-19 school year.
"The problems associated with vaping are very similar to those associated with smoking," said Sherri. Dr. George M. Zlupko, founder of the Lung Disease Foundation, said research shows that second-hand vape smoke is more dangerous than cigarette smoke. "Stealth vaping has become an issue as well," he said with concern, "Where the vaping device doesn't release smoke but still releases harmful chemicals into the atmosphere."
The sensors will be able to detect vape smoke and chemicals and will alert an alarm monitored by someone nearby in the building. The sensors will also be able to detect loud noises, like a fight or bullying incident. 
As the Tobacco Control Service Provider for Blair and Bedford Counties, the Lung Disease Foundation of Central PA is responsible for providing prevention, education, and tobacco cessation programs, as well as working to eliminate exposure to secondhand smoke. It is a 501(c)(3) nonprofit Foundation founded by Dr. George M. Zlupko. The Foundation is located in the Lung Disease Center of Central PA at 800 Chestnut Avenue in Altoona, PA.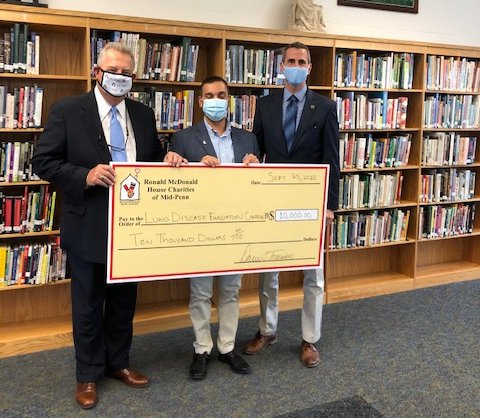 Pictured are George M. Zlupko, MD, Chairman of the Lung Disease Foundation, Darin Tornatore, President of the Board for Ronald McDonald House Charities of Mid-Penn and Dr. Robert Gildea, Superintendent of the Hollidaysburg Area School District.